Delicious, mouth-watering food on the Go.

Over 25 years of culinary experience in smoke meats. Top Rated Food Truck in South Florida

View Menu

We are Smoke House Grill Masters

3 Island G's Mobile Cuisine Food Truck specializes in Smoked Meat and American fusion dishes on the go.
Known for its international cuisine, American fusion style Food Truck and affordable catering, 3 Island G's is South Florida's leading BBQ, seafood, and pasta food truck. We specialize in smoked meats and American fusion dishes. Contact us for catering or questions.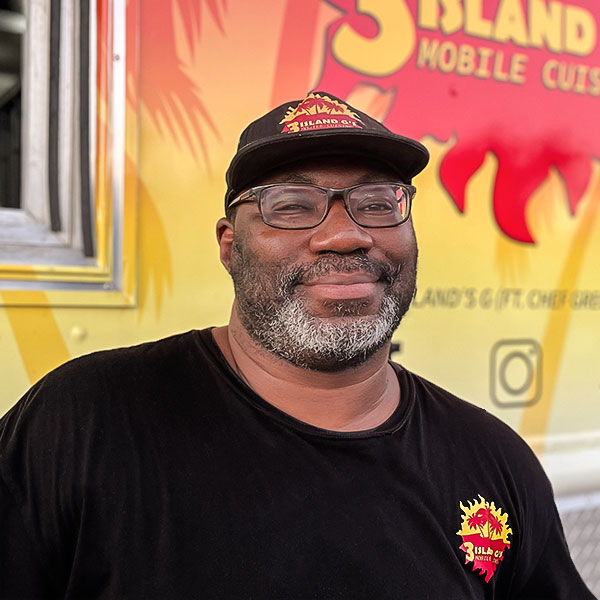 3 Island G's mobile cuisine is a catering company and food truck. We travel South Florida, bringing our tasty smoked meats to Floridians from Miami to Naples and Florida City. 
We are also available to cater your event. Our full-service catering is sure to leave your guests with a lasting impression. We can even produce any custom meal that you desire. We offer breakfast, lunch, dinner, and late-night service.
All meals are made from scratch using locally sourced and fresh ingredients. We smoke our meats with the finest wood blends at as low a temperature as possible to bring out the best flavors and achieve the perfect consistency. 
Our smokehouse grill produces premium smoked meat meals, including our popular smoked beef brisket, which smokes for a minimum of 18 hours. Our hand-cut smoked St. Louis ribs smoke for six hours until they reach falling-off-the-bone perfection. Our pulled pork smokes for 15 hours. Few other food trucks have the same patience and passion when it comes to smoked meats. View our menu or use the truck locator to find your next meal.
Discover the amazing flavors of 3 Island G's International Cuisine, made right.


Check out some of our most popular dishes featuring our delicious,
mouth-watering smoked meats. View our menu for even more options!
Food Truck Serving All of South Florida. 3 Island G's Food Truck covers a wide area of South Florida. We are based in Hollywood and travel to Florida City to the south, Naples to the west, Miami, and north to West Palm Beach, Martin, and St. Lucie counties.
👌 excellent foodtruck
Passed by on a business trip & oh my gosh!!! I wish I could take 10 plates back home with me! Everything was so delicious. Shoutout to the manager!! Super nice.
Great food and awesome customer service
Kobschies Ice Rolls
2022-05-21
This food is amazing. We had the grouper and ribs. So delicious High quality. Staff is super friendly and nice. Check them out, you won't be disappointed. Highly recommend!!!!!!!
erica barnwell
2020-10-30
I haven't had ribs like this at all this. They are delicious fall off the bone and melt in your mouth. Great customer service I hope the leasing offices have you guys come back!
Clarke Whitfield
2020-10-29
Food quality 🤌 Customer service 👌 Serving size vs prices ⚖ These guys will be seeing me A LOT more. Good job!
Chef George brings the right amount of quality to the way he does BRISKET and RIBS. If you claim you know smoked meat then the second you take a bite, you will know just how much time and patience it took for him to get it PERFECT! His combination is ON POINT with the mac' & cheese. You absolutely HAVE to try it!😋😋🔥🔥
We can help! Let us cater your next corporate event, private party, meetings, expos, weddings, you name it, we can do it. Bring the signature smoke flavor of Chef Gregory George and the crew of 3 Island G's to your venue. Request a consultation.